Top 5 Recruitment Myths DEBUNKED
Here at Paratus, we have a lot of different arms of the business, with podcasts, media content, a job site… but still at our core, is recruitment. It's our bread and butter, our tea and scones, our peanut butter and jelly. So why then, are we still hearing these crazy rumours about what it's like to work in recruitment?
We hear them and we think, 'blimey we must have it pretty sweet here…' but the truth is, recruitment has come a long way since the 'good old days.'
So we want to iron out some of those myths that keep clinging to life by their fingernails and create some of our own 'Paratus parables' that we live by…
Myth no. 1: Recruiters work every waking hour
No. Well, yes… but also, no. The thing with recruitment is you could spend every minute of your life making calls, sending emails, filling out reports but the reality is, you are responsible for your own workload. If you're driven to work those late hours to see results happen right before your eyes, you can do so if you like. But if you want the strict 9-5 approach and to separate your work-life balance, you have the freedom to do so. After all, we're all adults here, and it's your life.
Some of our best recruiters at Paratus do spend some evenings on the phone or catching up on emails, but it doesn't mean they don't have a life. Just ask the bags under their eyes on Monday morning after a long weekend…
Myth no. 2: Recruiters don't care about their candidates
Simply not true. I'd love to make a quick quip joke, or a tongue in cheek remark but truthfully, this ain't us, chief. Some of our candidates have stuck with us for years for that very reason; we care about their careers.
Take our Head of Client Services, Sam. Sam is the longest-serving recruiter at Paratus People, and has seen many candidates come and go over the years. But a lot of them come back to him because they can trust him. Like Eddie (which is of course not his real name for confidentiality's sake. So Eddie it is…) who Sam first placed in April 2020.
Eddie then worked for this company for nine months until the project he was working on came to an end. Immediately, Sam was able to place him in Warner Media. His contract there has now been extended a further three times, because Eddie's just that damn good. The relationship between Eddie and Sam now goes further than emails, sharing personal contact numbers and being able to ask Eddie for engineers who are just as fantastic as him. Not only that, but Eddie's given us a fantastic testimonial and once the pesky Miss 'Rona goes away, Sam and Eddie will most definitely be meeting up for a beer.
Myth no. 3: You need a degree to work in recruitment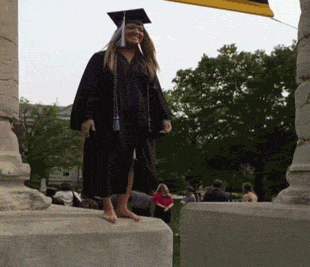 Degrees are lovely, aren't they? Three to four years of hard work, assignments, binge drinking, hungover lectures and asking yourself 'what the hell did I do last night?'. What a magical time.
But to work in recruitment, you don't need any of that. Some agencies might require it, but not here. A business degree might help, but we won't ever look down on a degree in fashion or basket-weaving or whatever industry took your fancy. What we need from you, is the proof that you've got what it takes and that you're willing to put the work in. Some sales experience is excellent, some background in IoT or some form of technology is a huge bonus – but you just don't need it.
If we think you can do the job well, you've got the job.
Myth no. 4: Recruitment is a dog-eat-dog world
There will be no dogs eating dogs on our watch. Competition in the workplace can be healthy from time to time, another way to drive activity and incentivise. But at the end of the day, we're still a team. We work together, we help each other, we share the rewards.
It's easier to work as a team when you scrap the old '360' approach that the majority of agencies use. At Paratus, we've split our teams into smaller sections and each has its own focus. Business managers create relationships with clients, onboarding new companies to help in their search for talent. Project co-ordinators find the talent those clients are looking for and build relationships with candidates to find them their dream jobs. Client service managers overlook the project co-ordinators, and make things run smoothly, closing off placements and ensuring a job well done.
And then you have the marketing team, who sit in the corner and make pretty pictures and videos for social media. Oh, and the blog you're reading right now. (Hi 👋🏻😊)
Myth no. 5: Recruiters don't understand the roles they're recruiting for
Well, we can't speak for every agency… But at Paratus, we do everything we can to make sure that we're not just servicing the IoT & broadcast industry, but we're a part of it. Our MD started his career in tech and has a huge interest in tech (no, seriously. If he wears any more tech wearables he's gonna come up on satellite radars…) and the rest of us either had an interest in tech already or developed one after we started the job.
It's an interesting industry to be involved in, and definitely an exciting one. It's constantly moving and evolving and Paratus are doing everything in our power to keep up – and it's working!
We care about what our clients are doing so much in fact, that we created The IoT Podcast and The RDK Podcast. We want to be in the know and understand what's moving, what's changing and what we can do to help. It makes our jobs easier and more efficient, but it makes our clients' and candidates' lives easier too.
Sound good? We're hiring…
Hopefully, reading through this has turned your head in our direction, or perhaps made your ears prick up a little… It's important to us to get the word out about who we are and what we do. If you liked the sound of the way we work, then maybe a job in recruitment is right for you.
And oh, would you look at that… We're hiring!
Paratus People are always looking for driven and passionate people to join our teams, and best of all, we want to see you succeed. So if this sounds like an opportunity you'd like to seize, then get in touch with our internal recruiter, Mel on melanie.carballo@paratuspeople.com.
Still on the fence? Maybe the 29 days holiday + bank holidays can tip you over the edge… 😉